Exclusive interview with the star of a new film about the famous court case
By Michael Cook | Jan 20 2020 |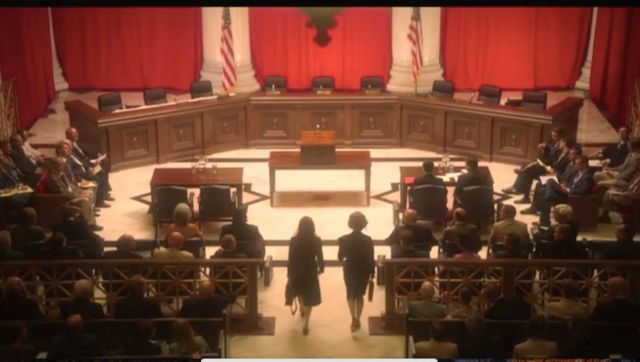 January 22 marks the 47th anniversary of Roe v Wade, the most contentious decision ever handed down by the US Supreme Court. In a 7-2 judgement, the Court held that American women have a "fundamental" right to an abortion.
Since that day, an estimated 61 million of them have taken place in the US. No longer a dark secret, abortions are being churned out on an industrial scale. Although the number of induced abortions has declined in recent years, the latest tally, for 2017, is still 862,320.
In the history of the US legal system, no other judgement has had such momentous consequences. Abortion touches every man, woman and child. If those lives had not been snuffed out, for instance, the US would be a nation of about 400 million.
Roe v Wade is a real-life story which screams out for a big-screen drama.
New York businessman and Hollywood personality Nick Loeb is having a go.
Roe v Wade, a film in which he is the co-producer, co-director, co-scriptwriter, and co-star, will be released later this year, possibly in the (northern hemisphere) spring. Earlier this month he spoke with MercatorNet about his ambitious project.
Loeb plays Bernard Nathanson, the central character in the film. "He's the guy who came out later and admitted that they'd lied about everything," says Loeb. "They lied about all the evidence, all the statistics, all the numbers that helped push their agenda. They made them up. It was fake news!"
Even Jane Roe was fake news. That was the pseudonym of Norma McCorvey, a pawn of the pro-choice lawyers who handled the case. She later joined the pro-life movement and became a Catholic.
Nathanson, who died in 2011, was one of the architects of Roe v Wade. He was a co-founder of NARAL (now NARAL Pro-Choice America), a leading abortion rights group. In the early 70s he established the Center for Reproductive and Sexual Health in New York City, which he later described as "the first and largest abortion clinic in the Western world." He admitted that he had presided over 60,000 abortions, 5,000 of which he performed himself. He even operated on a girlfriend and aborted their child.
But after Roe v. Wade Nathanson had a conversion. By 1974 he repudiated abortion after watching them via ultrasound. In an article in the leading medical journal in the US, the New England Journal of Medicine, he wrote "there is no longer any serious doubt in my mind that human life exists within the womb from the very onset of pregnancy." Eventually he became one of the leading campaigners for the pro-life side and also became a Catholic.
His story resonates with Loeb.
"When I got involved in the project, I'd never even heard of Bernard Nathanson," he said. "As I learned more about the story and all the characters involved and when I read Bernie's books, I found his story to be reflective of mine.
"And not only mine, but of a lot of people of my generation. We grew up in a world where we didn't think there was anything wrong with a woman wanting an abortion – it was her body, her right. It was like pulling off a scab; it was just a lump of cells. What did I know? I was born in 1975. Nobody in school was telling us, 'hey, there's a baby in there'."
This is where Loeb's interest in Nathanson becomes personal.
"Like Bernie, I was involved in abortions – not 70,000 of them – but I was involved in two, with past girlfriends."
It was literally a nightmare for him.
"I'd have dreams of the child that I had killed. It was surreal. You know, I'm not a religious person. I believe in God but I don't subscribe to any one particular organised religion. I said to myself, wow, maybe I've made this huge mistake and I've killed my child. It haunted me for many, many years. I also wanted to be a young father and I'd blown my chances and I felt that I'd really screwed this up.
"And as I learned about the issue, I started to think, O my God, there really was a baby in there. And they feel pain in the first couple of weeks and there's a heartbeat in the first 21 days.
"So I changed my opinion. I became pro-life for me and pro-choice for everyone else."
That's basically the Cuomo Doctrine. It was proposed by the legendary New York governor Mario Cuomo in 1984: no one is entitled to impose their belief in the sanctity of life on others. It has been invoked countless times by American politicians to square their religious beliefs with their political survival.
But Loeb eventually saw through that tawdry compromise.
"And then somebody came to me and said, hey, Nick, do you rob liquor stores? And I said, that's wrong; you'll go to jail. So, he said, it's not OK for you to rob liquor stores and it's OK for other people?"
"So I became pro-life for everybody and then under any situation. I became adamant about it. It's a life, the most innocent of all lives, and should be protected. No matter what, no matter how it got there in the first place."
Even in cases of rape? Yes, Loeb says, even then.
His intellectual journey surprises even him.
"You know, growing up, I thought all those right-to-lifers were crazy people," he muses. "I've now become one of them. Now I look at the pro-choicers and they're the ones who are crazy."
Loeb was talking to MercatorNet from his office in Europe. Europeans, he observes, have liberal abortion laws, but people don't boast about having had one. Instead, they feel embarrassed and humiliated. The contrast with the US could not be starker.
"Hollywood has made it something to be proud of today," he says. "'Shout Your Abortion' is a real organisation. Comedians are going out there saying, 'I can't wait to have an abortion. It makes me excited.'
"This is vile and gross and disgusting. But, you know, that's hurt their movement and helped ours. 'Cause even if you hear clapping in the background for a stand-up comedian who says that, the general population today thinks it's disgusting."
Although most of his friends are pro-choice, Loeb feels that the day when Roe v Wade will be reversed is not that far off. "One hundred percent in my lifetime," he says. And possibly in the next four years, if a pro-life justice is appointed to the Supreme Court.
Back to his film, on which he has been working for at least three years.
Loeb has lined up a solid cast, including Oscar-winning Jon Voight as Chief Justice Warren E. Burger and actress and talk-show host Stacey Dash as Mildred Jefferson, the first black woman to graduate from Harvard Medical School and a strong pro-lifer.
It's going to be a tough sell in the media, which is almost monolithic in its support of abortion. Even most of the actors, perhaps four out of five, were pro-choice. "But you know what?" he says. "They believe in telling the truth of Roe; they believe in the free expression of opinion."
The film tells the behind-the-scenes story of how the justices formed their opinions. From his research, Loeb feels that some of the seven who voted to create a right to abortion were actually pro-life but had succumbed to public and family pressure. "It was a big deal; this tore families apart at the time," he says.
"I hope people go see this, and not just pro-life supporters. We take a look at both sides of the argument. And we just tell the truth of what the characters did in their lives. We didn't make up that Bernard converted. We didn't make up that Norma converted," Loeb says.
"Nobody during this time went from being pro-life to pro-choice. No one converted the other way. No one can say these characters converted the other way and you left them out of your story."
Roe v Wade has a budget of about US$7 million; by Hollywood standards, this is an ultra low-budget. But from a financial point of view, low-budget "faith-friendly" (not "faith-based", Loeb stresses) movies can be smash hits, with a healthy return on investment. He cites War Room (budget of $3 million, box office of $74 million) and Unplanned (budget of $6 million, box office of $21 million).
And Roe v Wade has the advantage of 47 years of advance publicity. As a brand, Loeb points out, it's iconic. There's no need to prime the audience.
Michael Cook is editor of MercatorNet. This article originally appeared on MercatorNet.com and is republished with permission.