By Bonnie Chernin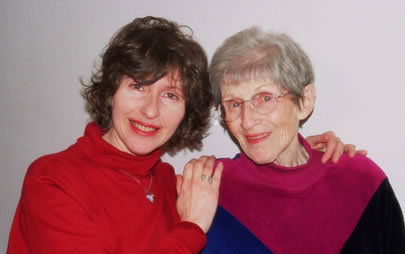 This piece honoring my Mom first appeared on my personal blog in 2005.
On May 17, 1912, something wonderful happened. My mother, Florence Esther Weiss was born.
My grandparents emigrated from Hungary in 1910 and settled in Camden, NJ. Mom was the eldest of two daughters born to my grandfather Joseph, who died before I was born, and my beautiful grandma Giselle, a professional seamstress who passed her Old World cooking and sewing talents on to my Mom.
I come from a musical family. My grandfather bought Mom her first violin, an 18th century beauty from Cremona, Italy and an expensive bow to go with it. As Mom grew up she continued her music studies and became a proficient violinist. She was one of the few girls in her school to lead a musical group. Her Gypsy chamber trio played live classical and jazz on the pioneer radio station WLIT in Philadelphia.
However, a career as a classical violinist was not to be. My mother took a commercial course and became a secretary. In no hurry to marry, Mom saw most of her friends marry first. While vacationing one summer with her friends at a bungalow colony at the Pocono Mountains, she met David Chernin, my dad. They married in 1940 and moved to Brooklyn, NY where they lived for 42 years, and then retired to the Poconos where they first met. They came full circle.
Feminists would disrespect my mother's choices. Once married, she settled down to become a devoted wife, mother and homemaker. Life was idyllic in those days. I inherited Mom's musical talent and began studying piano at age 5. There were parties on every holiday – Mommy really knew how to throw a great bash and was a fabulous cook and baker. I have Matzoh Ball memories that I still dream about. I have never tasted a more delicate, lighter-than-air sponge cake than Mom's. No Betty Crocker for her – everything from scratch.
She was emotionally available for everyone who needed her, never complaining about too many chores or demeaning her important role in our lives.
My brother and I had lots of friends and there were always people coming and going at our house. There were mahjong and bridge games. There were trips to Camden and Philadelphia. There were shopping trips to A & S in downtown Brooklyn. The neighborhood was safe and there was a sense of community that has long since vanished.
And so we lived, this ordinary family, at the same Brooklyn address for many years. My brother joined the Navy, got married and moved away. My teenage years were interrupted by two scoliosis surgeries and very tough times at school, but I survived the turmoil and went on to college and studied music and library science. Mom provided love and guidance. Dad retired from his ironwork business, bought the home in the Poconos and learned to play golf. My parents traveled to Europe and Israel, and finally retired to Pennsylvania to their small ranch in the woods. My father, always the life of the party, made friends instantly in this new rugged place. Never an extrovert, Mom became one when she was with my dad. They became champion bridge players. Mom joined the women's sewing circle. Retirement was complete.
My mother was amazing in that she could keep a secret forever. When my dad got a notice from Social Security stating it was time to file for retirement benefits, Mom promptly told him, "It's too late. I turned 65 three years ago." Daddy was shocked, because Mom looked so much younger. He asked why she lied about her age when they met. She was afraid Dad would think she was too old for him. He then asked why she didn't reveal her secret all the years they were married. She replied, "Well, you seemed happy enough, so I didn't think it made any difference!"
It didn't. My father died in 1995 of cancer and Mom continued to be active, playing bridge twice a week and attending the sewing circle every Thursday, mainly to have drinks with her friends. She drove, shopped and socialized. She shoveled snow. Our family worried about a 92-year-old woman living alone in the woods. Everyone offered her a place to live, but she wouldn't hear of it. Our family offered assistance, but she wasn't amused. If you tried to help her with any chores, she'd yell: "Get away! I can do it!"
Although she was frail, Mom was still a fabulous driver. She was fiery and feisty. Last year, she proudly showed me her license, which she recently renewed. "They sent it in the mail, and I sent it back all filled out," she proudly said. I looked at it and said, "Mommy, I have bad news. That's your registration. Your license has your picture on it." We looked at her license; it had long since expired. She put it back in her purse. I told her, "You can't! You'll get in trouble if you're stopped by a cop!" She quickly said, "Listen! That's me in the picture and that's my address. If it's good enough for the Motor Vehicles Bureau then it's good enough for the cops!"
Taking my Mom out for a ride was eventful. Ever the back seat driver, she would scream, "Slow down!" at every turn if I were driving too fast. One day, we went shopping and took her car. This 103-pound, petite 92-year-old lady suddenly got an impulse. She floored the accelerator and began to plow down Route 590. "Look out!" I screamed as she veered around the curvy road. When it was all over, my mother turned to me and with a devilish glint in her eyes whispered, "Hee, hee! I always wanted to do that. I always wanted to drive fast."
Not speed, not life or death, not even bears in her development frightened my mother. When a brown bear passed by her window while we were on the phone, I became hysterical. She went out to get a closer look.
Her mind remained sharp. She loved crossword puzzles, politics and news, watching golf, classic films and reading mysteries. We shared the same idol from Hollywood's Golden Age – lovely film star Greer Garson - who often portrayed a good wife and mother. "We're the same type," my Mom reminded me.
I always told Mom she'd live forever. What I didn't know is how much she wanted to join my dad. Last November, a neighbor took her to vote and noticed how painfully thin she was. The neighbor became alarmed. "Florence, you've got to eat. If you don't, you're going to die!" Mom turned to her and said softly, "I'm ready." That was three months ago. Maybe that's why my mother refused to wear the Med-alert necklace I got her. "Stop worrying," she'd always say. "When it's my time to go, I'm going!"
And so she went, on January 17, 2005.
When my brother called to tell me she was gone, I was stunned. I couldn't believe such a vital, imaginative and intelligent person would ever die. Mom loved to talk and express her strong opinions, but was wisest when beside my Dad and among friends and family. We hear about the deaths of famous people like Johnny Carson, whom my mother adored. Fame and celebrity make instant legends, although legions of admirers know the image and not the person. My Mom never sought celebrity and remains a quiet legend, an inspiration to those who knew her and were touched by everything she was. She was a treasure who died as she lived, quietly, putting her head down in the middle of a conversation and falling asleep in the back seat of my brother's car. My rabbi and some friends wrote to say my mother's passing was "mitat neshika," which in Hebrew means she died after she was kissed, and she didn't feel a thing. This kind of death only happens to special people.
I miss her.
Copyright 2005 by Bonnie Chernin. All rights reserved.