Pro-Life Pregnancy Resource Centers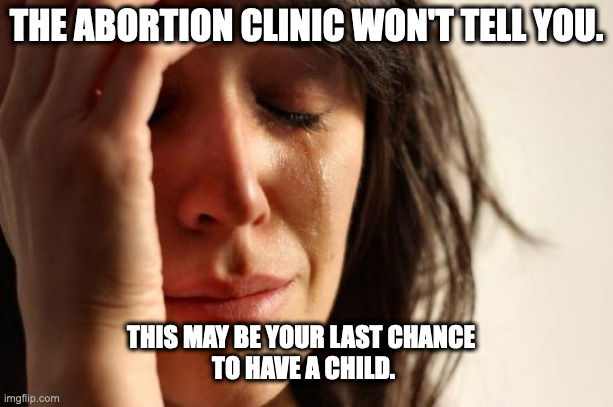 Woman who visited pro-life pregnancy center said an ultrasound 'completely turned my life around'


The minute a young woman enters an abortion facility, the hard sell to promote abortion begins. They do not show the pregnant woman ultrasound images, provide her with the stages of development of her unborn child. In short, they hide the truth or facts about the unborn child.
The first thing every woman seeking an abortion should be told is that this may be her only opportunity for her to have a child. Abortion businesses never remind pregnant women of this tragic reality. Women are rushed into abortions they often later regret.

Planned Parenthood profits by selling abortions. Their goal is to sell abortions.

The following organizations help women with information and resources to give them life-affirming options. These organizations offer FREE HELP so that young women can have their babies.
If you are a young woman considering abortion and feeling uncertain or pushed into a decision you do not feel is right, please contact one of the centers below.
There are 2,752 center locations in the United States.
Contact Care-Net.org to find a local Pregnancy Center near you.





EFRAT in ISRAEL
EFRAT
10 Ha'Iluy Street,
P.O.B. 34204
Jerusalem 9134101
Israel
Tel: 02 545 4500
USA
C.R.I.B.
Committee for the Rescue of Israel's Babies
1274 49th St. Suite 569
Brooklyn, NY 11219
USA
Tel: 718 697 7022
E-mail: EFRAT@EFRAT.ORG.IL
Website: http://www.efrat.org.il/english/
From their website:
EFRAT is a non-profit organization register in Israel, U.S.A., Canada, England and France.
Its mission is to empower women to make an informed choice about the future of their pregnancy by providing them with personal counseling, prenatal medical consultation and postnatal family support. In addition EFRAT supports women by providing advice regarding exercising rights, such as access to public housing projects, liaison with social security offices and banks and by offering legal assistance through volunteer lawyers where necessary.
EFRAT aims to enable women to have a positive impact on their own lives and break out of the cycle of distress by offering opportunities to access vocational training and achieve financial independence.
EFRAT has been privileged to help over 71,000 women since the organization was formally established in the 1977. This is a staggering number and means that over 71,000 women have been empowered and supported in their choice to continue their pregnancy and keep their baby.
In Shifra's Arms
PO Box 7212
Silver Spring, MD 20910

Call our helpline at: 1-888-360-5872
Reach our counselors directly by texting: 646-632-8547
E-mail: Contact form on the website.
Website: In Shifra's Arms

From In Shifra's Arms website:

Our mission is to nurture vulnerable pregnant Jewish women and help them build a positive future for themselves and their children. Through our professional counselors, In Shifra's Arms helps women navigate unplanned or difficult pregnancies so they don't have to take the journey alone. We offer emotional and practical support from the first trimester through the baby's first birthday. We also offer caring follow-up in cases of abortion/miscarriage. In every case, we treat our clients with unconditional kindness, compassion and respect.

Pregnant Women:
Our Counseling: Our professional counselors are available for crisis counseling and support through baby's first birthday. Their support also includes post-abortion or miscarriage counseling should you need it.
Our Community Connections: We can refer you to partner agencies who offer housing, employment and other support you may need.
Our Material Aid: We can send you care packages, maternity clothing/supplies and baby clothing/supplies if needed.
Our Financial Aid: We can provide grants to help with your most urgent needs not met by other community agencies.
Just One Life
ISRAEL OFFICE
16 King George Street
Jerusalem, Israel 91024
T: (02) 625-4973
F: (02) 625-4994

Rabbi Martin Katz
Executive Vice President-USA
info@justonelife.org
US OFFICE
587 Fifth Avenue, Suite 702
New York, NY 10017
T: (212) 683-6040
E-mail: info@justonelife.org
Website: https://www.justonelife.org
Save a Life in Israel Today!
Every day in Israel, in a moment of panic and distress, an expectant mother in crisis decides to terminate her pregnancy. Already stretched to her limit economically and psychologically, she fears the future. Distraught and conflicted, pushed to the brink, she sees no other way out. Women with medically at risk pregnancies face difficult decisions as well.
Our Services:
Just One Life helps relieve burdens before and after the baby arrives. The needs of each family are evaluated by our staff of professional social workers to determine what we can do to help. Depending on the individual plan, a family will receive a monthly subsidy and counseling to relieve its stress. Most important, this mother now has an opportunity to spend these months preparing emotionally and financially to receive the new addition to her family.
Just One Life offers expectant mothers a helping hand to guide them through the months of pregnancy and beyond. Just One Life enables and empowers mothers to have the children they so desire. We provide each family financial support to help them through their crisis.
Just One Life is a 501(c)-3 nonprofit organization, whose focus is the Israeli family faced with the dilemma of an untimely or medically at risk pregnancy. When pregnant women are grappling with difficult choices, it is important for them to know that they are not alone, that there is an organization - caring people and dedicated mental health professionals - that they can turn to for assistance.
Just One Life's team of professional social workers combined with a financial assist from our dedicated supporters provide the opportunity for our clients to be empowered to make critical future-focused decisions for themselves and their families with support, clarity, and confidence.
EMC Frontline Pregnancy Centers
EXPECTANT MOTHER CARE
Mail Address: P.O. Box 134, Bronx, NY 10470
Telephone 212-213-4690
Email: Slatteryny@gmail.com
Twitter: ChristSlattery
Facebook: Expectant Mother Care EMC FrontLine Pregnancy Centers
Rescuing moms and babies at highest risk in NYC - The Abortion Capital.
NYC's oldest and largest network of Crisis Pregnancy Centers
Expectant Mother Care-EMC FrontLine Pregnancy Centers runs Life-saving Sites throughout NYC.
Over the past thirty years, EMC FRONTLINE has been an innovative leader serving in the mouth of the abortion capital where 70,000 abortions are done annually. Because of our missions and services, we have been able to save 43,000 innocent children from abortion. As we grow, we have plans to grow into other cities and states. EMC also makes abortion determined caller referrals to Pregnancy Centers in 10 U.S. cities, daily We are excited to be taking our proven and field-tested methods to these other areas.
MISSION: To serve thousands of distraught expectant moms, in offices in four boroughs, and on the streets at abortion sites in the NYC area, offering free consultations, testings, ultrasounds, and referrals for pre-natal care and other assistance.
HERE'S WHAT WE DO
We are all about saving the unborn lives threatened by abortion. Thus we are all about offering alternatives to abortion.
Birthright International
Call 1.800.550.4900 - 24/7 HOTLINE
For over 50 years, Birthright has been helping women with unplanned pregnancies.
Birthright began in Toronto, Ontario, Canada in 1968 when Louise Summerhill, a busy housewife and mother of seven children, felt something should be done to help women facing unplanned pregnancies.
By offering love, hope, support and resources, Birthright has grown to become a pregnancy support service with hundreds of centres throughout Canada, the United States and Africa.
Information about: Pregnancy, Childbirth, Adoption, Prenatal Care, Community Programs, Parenting Skills, Child Care.
Referrals For: Medical Support, Financial Resources, Housing, Legal, Social Assistance, Professional Counseling
Resources: Pregnancy Tests Maternity and Baby Items
Heartbeat International
5000 Arlington Centre Blvd, Suite 2277
Columbus, Ohio 43220-2913
Phone: (888) 550-7577
Fax: (614) 885-8746
Website: https://www.HeartbeatInternational.org
Heartbeat Interntional is the first network of pro-life pregnancy resource centers founded in the U.S. (1971), and it is now the most expansive network in the world. Heartbeat has over 2,500 affiliated pregnancy help locations including pregnancy help medical clinics (with ultrasound), resource centers, maternity homes, and adoption agencies in around 62 countries around the world to provide alternatives to abortion. They provide a Worldwide Directory of Pregnancy Help that can be searched on their site, and OptionLine.org where they can be contacted via text (see below).
If you're considering adoption, or just want to learn more about the adoption process to see if it's right for you, please contact us through chat, send us a message, or call us at 1-800-712-4357 so we can connect you with adoption help in your area.
OptionLine.org – Text "HELPLINE" to 313131, or call 800-712-HELP. OptionLine.org is a all center located in Columbus, Ohio. Option Line consultants refer each caller to a pregnancy resource center in her area for answers to questions about abortion, pregnancy tests, STD's, adoption, parenting, medical referrals, housing, and many other issues. The toll-free number is available to callers 24 hours a day, 7 days a week. Callers from across the country can reach a trained, caring person and then be connected to a pregnancy resource center near them for one-on-one help.
Women's Care Center
Contact Page: https://supportwomenscarecenter.org/contact/
About: Women's Care Center was founded by Dr. Janet Smith in 1984, when she was a young professor at the University of Notre Dame. The center has grown to become the largest, most successful pregnancy resource center in America.
Locations: We serve 28,000 women annually from thirty-two centers in eleven states, including Florida, Illinois, Indiana, Kentucky, Maryland, Michigan, Minnesota, North Dakota, Ohio, Pennsylvania and Wisconsin.
Mission: Our mission is to help pregnant women from our communities choose life for their babies, have healthier pregnancies, become better parents and take first steps to self-sufficiency.